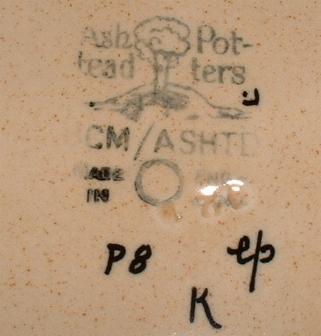 This is a quick guide to the sort marks that can be found on nearly all Ashtead Pottery. The Ashtead factory was very precise in its marking system and coded virtually every phase of the manufacture.
This is the reverse of a decorated side plate and is a good example of the various marks to be found.
Starting at the top:
The "Ashtead Potters" stylised tree stamp. This one includes the words "BCM/ASHTD" – this being an early style of post coding which stood for British Commercial Monomark / Ashtead. There is also the wording "Made in England" either side of a circle. The circle is a date code (see below for year codes).
This plate carries the artists personal mark of a right-angle and dot, in this instance William Robinson.
By the word "England" is an impressed mark "027". At busy times it is known that the factory "bought in" plain slips to be decorated at Ashtead. This example was sourced from the Wedgwood factory, the "027" being their date code. However, these blanks could have sat on the shelf for several months or years, hence the difference between the Wedgwood and Ashtead date marks.
Next down there is the model number "P8" = plate, size 8. Model numbers are always in upper case. This is followed by "k" for the glaze code and "ep" for the decoration, in this case a tree. There are probably more than 30 known decoration codes. At present the author is trying to compile a list for later inclusion.
Another mark, not shown here, is an inscribed "HT" for hand thrown. Many of the vases and some jugs were made this way as opposed to being "slipware".
Ashtead Codes
(please note: these list are still being compiled and more will be added as information becomes available).
Model Codes (always marked in UPPER case).
Click on the relevant letter to find the known model numbers :
A codes
Comport
P codes

Plates, pot stands

B codes

Bowls, basins, flower bowls, sugar bowls, Porringer

S codes

Saucers, tureen stands, soup bowl stands, toast racks


C codes

Cup


T codes

Preserve dishes and
fruit bowls


F codes

"Ashtead" dinner and
coffee services


V codes

Vases


J codes

Jugs, tankards,
covered jugs, ewers


W codes

"Wigmore" dinner
service


K codes

Beakers


X codes

Boxes, containers, teapots, covered jars (jam pots), honeycomb dish, bacon dish, soap dish, coffee pot, porringer with cover.

L codes

Lamp bases


AA codes

Advertising wares, Commemoratives and other special designs


M codes

Model


"Christopher Robin"

Nursery set models and decorations
The known date codes are: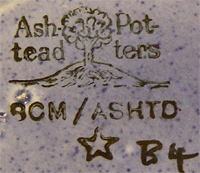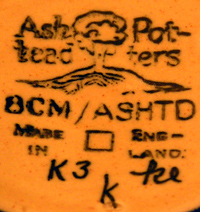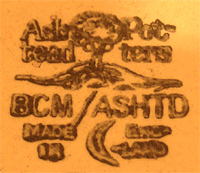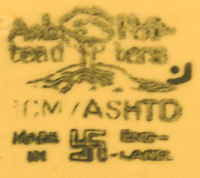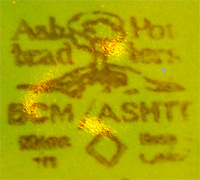 There are also the following date codes which have not been positively attributed: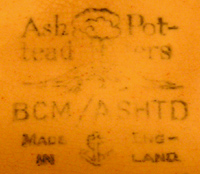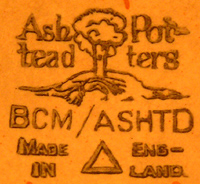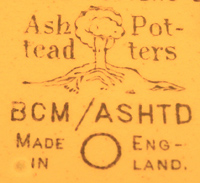 Pieces from the earliest period (1923/4) do not carry a date code. These pieces have a very basic "Ashtead Potters" stylised tree without the "BCM" and "Made in England" legend.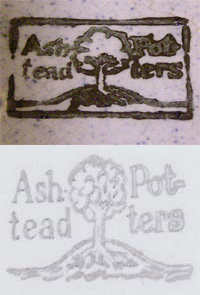 The known painters marks are:
One dot = Albert Vincent
Two dots = William Dennis
Three dots (forming a triangle) = Stanley Conway
Right angle and dot = William Robinson
The glaze codes (always marked in lower case) are:
a = Dark Green
b = Yellow
c = Royal Blue
d = Celadon
f = Powder Blue
g = Ivory
k = Pearl barley
m = Orange
n = Grey / green
o = Apple Green
p = Rose
r = Black
s = Mauve
t = Cinnamon
v = Jade Green
w = White
x = Opaque white
z = Light chocolate brown
The known decoration codes (always marked in lower case) are:
This is a far from complete listing of decoration codes.
(for the purpose of these descriptions "bands" would be found on the rims of plates and "hoops" on jugs and vases). Can anyone supply any others?
By clicking on the code letter you can see an example of that decoration.
ai – clematis and vine
aj – green/blue geometric dots and diamonds
al – cottage and garden
au/4 – geometric pattern – two hoops separated by diagonal lines
au/8 – black geometric pattern – two hoops separated by diagonal lines
bb – green / yellow ducks on water
bc – blue / yellow geometric pattern
be – blue / green geometric pattern
bf – harlequin hoops (sepia/brown/green/yellow/blue)
bk – broad bands (brown/white, blue/white, green/white, etc)
bk/6 – yellow/white hoops
bk/8 – brown/white hoops
bk/13 – blue/white hoops
bl – Blue/Sepia geometric pattern
bm – Chinaman with kite?
bn – fish
bo – Shepherd and sheep
br – blue/sepia geometric (Greek style) pattern
bu – Blue/Sepia swirl and circle pattern
bur – March hare
cb – August fields
cb/k- black/sepia/green/blue vertical lines
cd – duck
ce – sepia/olive/black bands
ce/4 – brown/black/brown bands
ch – sheaf of flowers
ci – black geometric design
cj – rabbit and flowers
ck – lady and wigged man
cl – chicken / hen strutting
cn – sailing ship
cp – sepia/black/yellow/white hoops
cq – floral design
cr – royal blue/powder blue hoops
cv – brown/black/olive bands
cx – Chinese lantern? geometric pattern (yellow/black/sepia)
cy – gamekeeper and birds
daz – rabbit & green/yellow geometric border (on a dish)
dec – intertwined parrots
dy – galleon
el – floral
ep- trees
et – leaves
ezz – lady holding a bird
fe – owl
ff – green/black bands
fg – fish blowing bubbles
fh – stylized thistle
fo – vase with fruit
fy – blue/green fern
ga – Roe Deer
gc – daffodils
ge – stylized fish
gf – green/blue/yellow geometric spring flowers (daffodils?)
gg – green/blue/yellow leaves tied as a bunch
gr – royal blue/sepia geometric
gt – sepia/black/sepia
gy – blue/black bands
ha – blue/green sundial
hc – Pied Piper
hd – knight on horseback
hf – crinoline ladies
hh – brown/blue/sepia/pearl barley hoops
hi – black/sepia bands
hm – blue/sepia bands
hp – golden brown/sepia bands
hu – blue/green bands
hz – blue/green "roman" urn with cascading flowers
ie – Peasant with birds on a stick
jo – spring flowers
ju – Viking ship
kb – blue/green/yellow flowers
kj – spring flowers
kl – blue/green hoops
kq- green/sepia hoops
mb – bird in a bush with flowers
me – underwater scene (seaweeds, bubbles, fishes)
The author acknowledges Edward Hallam's book "Ashtead Potters Limited in Surrey" as a source for some of this information.