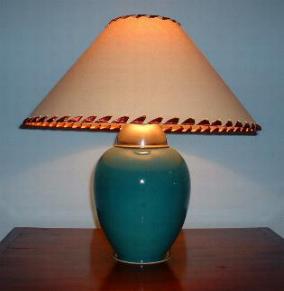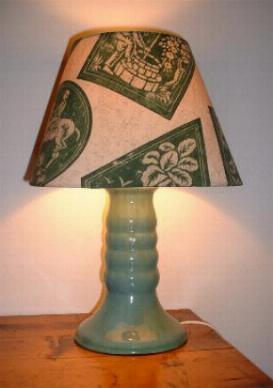 Two Lamps models L4 and L5
Sadly, neither with their original shades but nonetheless still working!
The left hand picture shows L4. This has a chromed light fitting on top of the slip moulded base. It is finished in Jade Green glaze (v).
The right hand picture is of lamp L5, it has the glaze code "a" for dark green but is in fact more of a turquoise / light blue colour possibly closer to "n" grey / light blue.
(Another piece in grey/light blue has been seen marked as "m" so maybe the factory was having problems with its glazes at the time) L5 was also produced as a vase (V20), i.e. without the light fitting.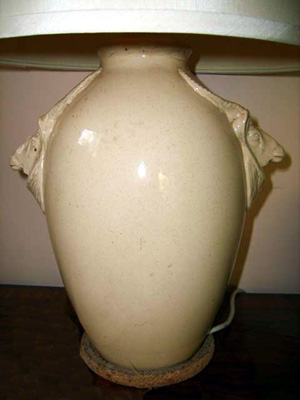 Ashtead Potters Lamp L?
This lamp has the African Buffalo heads designed by David Furse.
(photograph courtesy of Diane Thomson)
Ashtead Potters Lamp L18
Embossed with swimming fish. The lamp is in yellow glaze (b) although marked as pearl barley (k). This one retained its original fitting but not the flex.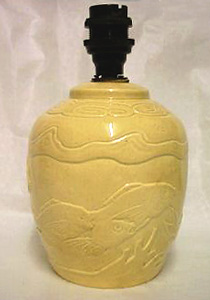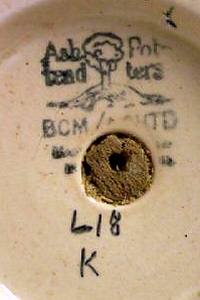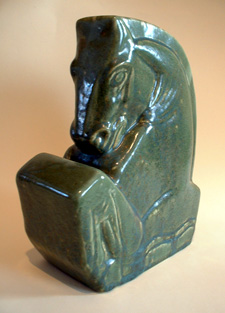 Ashtead Potters Lamp base L11
In green / grey glaze (n). Designed by Percy Metcalfe.