Phoebe Stabler (? – 1955)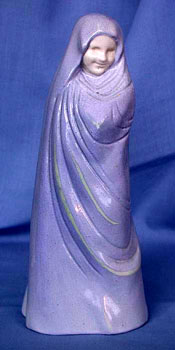 Phoebe Stabler was a noted figure modeller, having studied at Liverpool University and the Royal College of Arts. She worked in collaboration with her husband, the art designer Harold Stabler, whom she had married in 1906. The Stabler's were personal friends of the Weaver's.
They worked from a studio in Hammersmith, London working in a wide range of material including pottery, silver and lead. Success really came when, having had problems with firing in their own kilns, the moulds were taken over by the Poole Pottery (Carter, Stabler and Adams). Her designs were produced in ceramic by Royal Doulton, Royal Worcester, Poole Pottery and Ashtead Potters Ltd. The partnership went on to supply many of the large London stores, including Heals. Apart from the smaller pieces, Phoebe also designed architectural ceramics, most notably the Durban War Memorial.
Many of her pieces for Ashtead appeared under different titles for the Worcester factory.
left to right: "Sleep" from Poole, Royal Doulton and as "Madonna and Child" from Ashtead. "Buster Boy" and "Buster Girl" were also produced by Poole.