David Furse (1900 – 1955)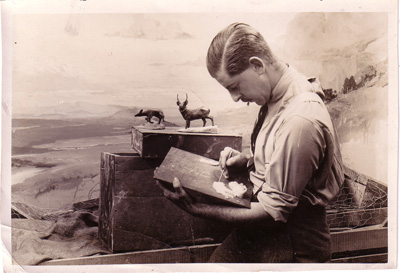 David Gordon Roberts Furse 1900-1955, pictured above, was the eldest son of Lt.Gen Sir William Furse KCB, KCMG, DSO and Dame Jean Adelaide Gordon OBE. He went to Kenya in 1917 as a farm pupil and, apart from a short time in England, remained there until he died in 1955.
He came to England with his wife at some point in the period 1933-4 to work on a diorama for the Imperial Institute (now demolished). It was during this time that he designed the pieces for the Ashtead Potters. Below is a working sketch of the design for what became known as the "Gazelles" dish but are in fact Impala. Apart from these dishes it now known that he also designed the "M102" Polar Bear and the African Buffalo handles that appear on some vases.
David's brother, Roger Kemble Furse, was also an artist. He came to prominence through film set design and his association with Sir Lawrence Olivier, designing sets for many of Olivier's productions of Shakespearean plays. His wife was Margaret Furse who won 5 costume design Oscars in her career. He also had a sister, Judith who was an actress and although may not be well known by name would certainly be recognised by face and carried on acting through to the 1960's and even appeared in a couple of Carry On films.
This information and the pictures were kindly supplied by his daughter, Diana Thomson.