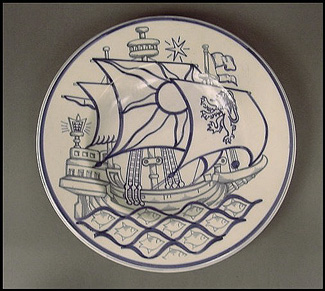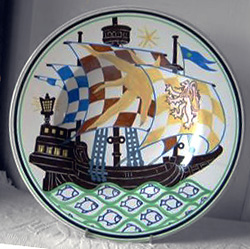 Ashtead charger sized plates, model P3

Two versions of the P3 charger, both "dy" Galleon decoration.
Ashtead decorated plate P5
This plate carries the decoration code "ezz" and shows a lady holding a bird (a parrot?).
(pictures courtesy J R Culbert)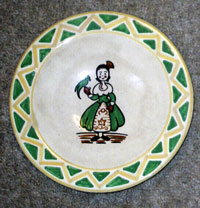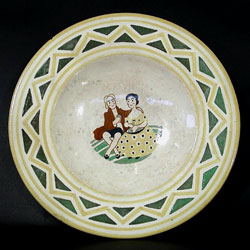 Ashtead charger sized plate, model P3
Although this plate has similar border the decoration code for the "courting couple" is not known.
A highly decorated dessert plate, thought to be decoration code "kj" "spring flowers.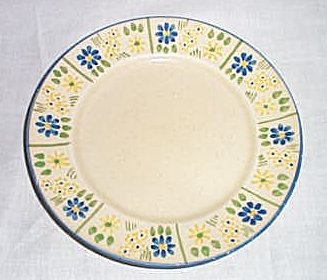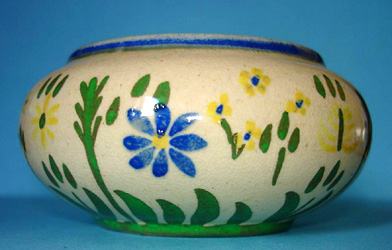 A small Sugar bowl B35
This one is decorated in "Spring Flowers" (jo). It is about 8 cms diameter and would probably have been part of a tea set decorated in the same pattern.
Ashtead lidded dish P9
A lidded "Gazelles dish mentioned on a previous page. This finished in Apple Green glaze (o). The moulded figure on the top lid appears to be a hare or possibly a large cat.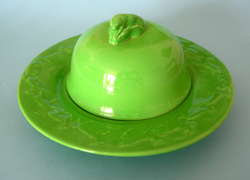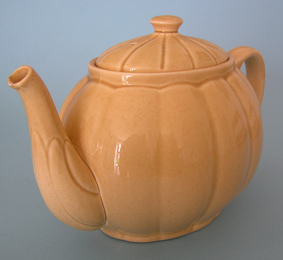 A "fluted" pattern teapot model F41
This one is finished in plain Pearl Barley glaze (k). It stands about 13 cms tall and would probably hold enough to fill 4 cups.
Ashtead Potters "Duck" pattern (cd) bowl – Model B9
This bowl has the earliest date stamp and William Robinson's mark. The pictures also shows something that is quite common on Ashtead wares and that is staining under the glaze. Ashtead wares also often have crazing of the glaze.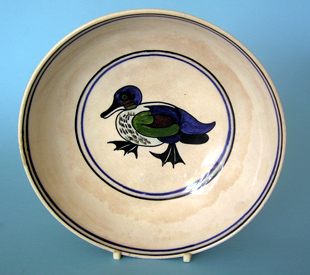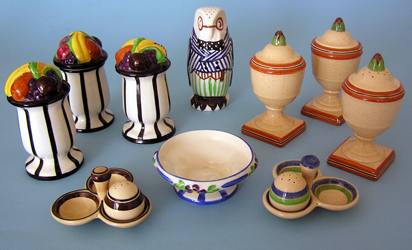 A selection of Ashtead cruet
From left to right:
"Fruit tops" M7/8 pepper, M11/8 salt, M13/8 mustard. "Owl" M20 pepper, the companion to "Owl" is a "Frog" salt pot (not shown). "Urns" M84 mustard, M87 salt, M88 pepper.
Salt M10/11. A pair M29 "clover leaf" with small pepper pots finished in sepia/black (hi) and green/blue (hu).
Ashtead Potters Tureen X33 and Stand S33
A huge tureen at 30 cms diameter and 18cms deep, this was part of the "Surrey" dinner service. Finished in Pearl Barley glaze (k) and blue/green banded decoration (hu). The cost new of this piece was £1.12s.6d (£1.67p).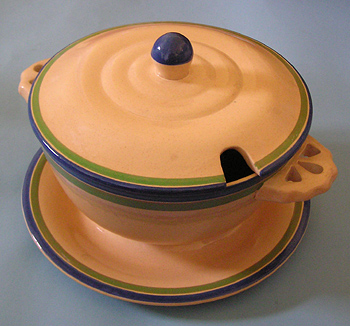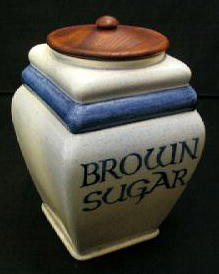 Ashtead Potters kitchen storage jar X53
This is one of several kitchen jars that were made by Ashtead. The jars came in four graduated sizes, this being the largest. The smallest size (X55) was for spices, with the medium sizes (X51 & X54)being for dried fruits and pulses. The lids are of turned hard wood to minimize chipping. The names are hand painted. The retail price for this pot when new was 15 shillings (£0.75pence).
(photograph reproduced with permission)
Ashtead Potters bowl B26
This bowl is finished with a fishes motif (bn). It measures about 26 cms. The artist's code is a triangle (not yet attributed) and the date code is for 1927.
(Photo by kind permission of M Casak)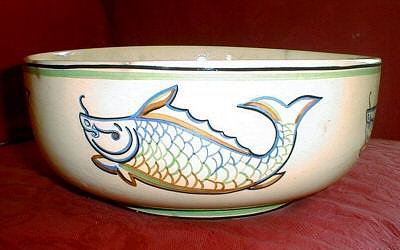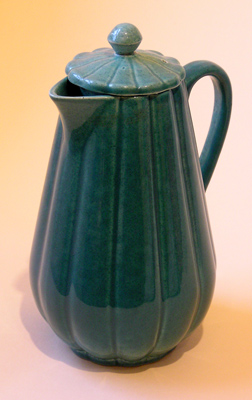 Ashtead Potters X74 "fluted" pattern hot water jug
Finished in "v" jade green glaze. This is probably a piece from a coffee set. It stands 18 cms tall.
Ashtead Potters S50 and X50 small covered soup tureen
Finished in "v" jade green glaze. This would have been from a dinner service. The bowl and lid are X50 and the saucer S50.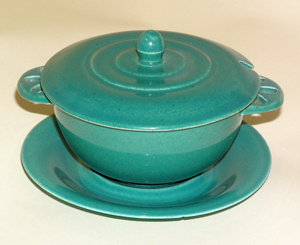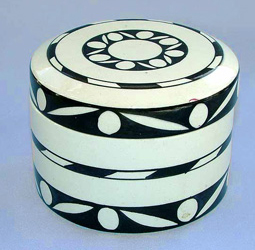 Ashtead Potters X3 covered box
Unknown decoration code.
9 cms high x 14 cms wide this box was catalogued as being "ideal for storing 100 cigarettes!
An Ashtead Coffee set
4 x Cups (C14) and Saucers (S12), Jug (J20,) Bowl (B57), Coffee Pot (X70) and Hot Milk Jug (J70). Finished in Apple Green glaze (o).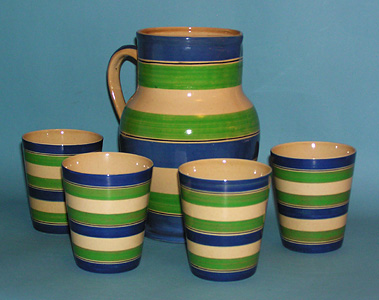 An Ashtead lemonade set
4 x Beakers (K3) and Jug (J16) Finished in "kl" blue/green hoops.
An selection of "b" yellow glazed wares
Small Bowl B35, Covered Box X45, small Jug J20, Vase V13, Side plate P8, Tankard C21, Small Covered Box X21.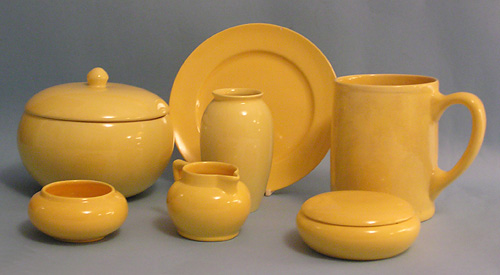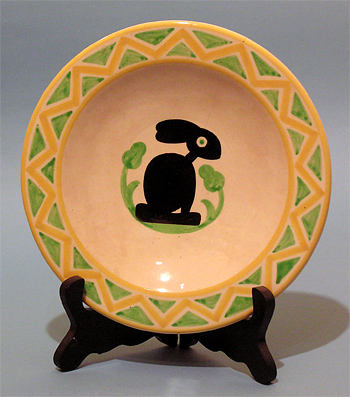 Ashtead Potters Dish P5
A small dessert dish, 19 cms wide. This dish has decoration code "daz" but does not have a painters mark. It is an early piece.