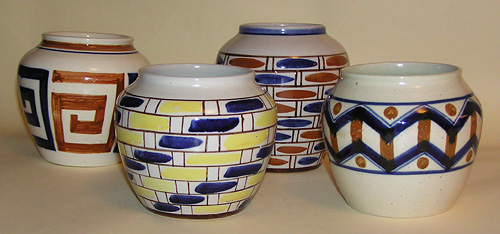 Ashtead Potters "Geometric" design vases
(left to right)
V? – hand thrown (incised "ht"), decoration "br" "Greek" geometric. Earliest date mark.
V? – another very early piece, decoration "bc" geometric with dots.
V33 – decoration code "bc" blue / yellow geometric
L6 – this one is marked "L" not "V", decoration "gr". An early piece again
Ashtead vase V69
A small bulb growing vase in "f" powder blue glaze.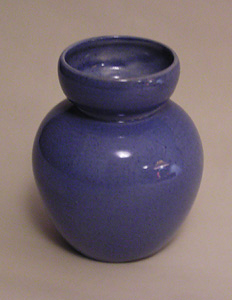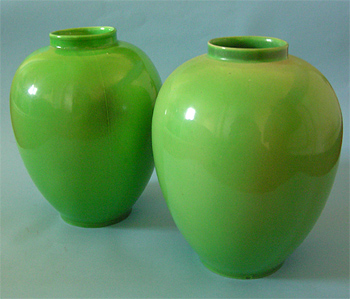 Ashtead Potters Vases V3
A pair of 25cm tall green (v) vases. These carry the star date code for 1925/6. The faint vertical line on the left hand vase is the witness mark left by the slip moulding process.
Ashtead Potters Vase model V2
This stands at 30 cms tall and is one of the largest pieces made by the pottery. The finish is powder blue "f".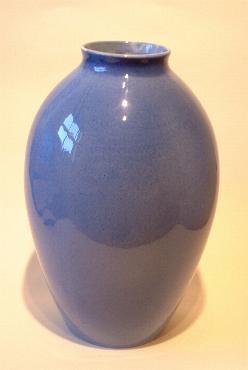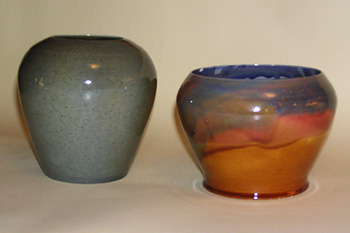 Ashtead vases V19 + V?
(left to right)
V19 is finished in celadon glaze (d). Incised "ht" – hand thrown.
V? carries no marks other than a nearly stylized tree logo.
Ashtead Vase V35
In "c" Royal Blue glaze. 20 cms tall.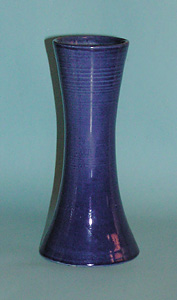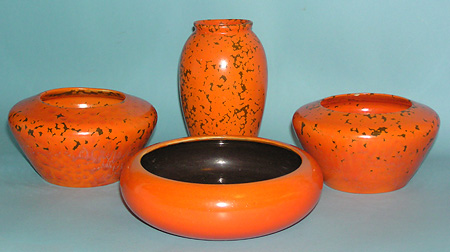 A selection of "o" orange glazed wares
Two vases V18, Vase V14 and bowl B15 (interior glazed black).
The Ashtead factory had great problems producing the orange glaze – many of the wares ending up with a crackled black in the finish – this was possibly caused by soot from the oil fired kiln.
Ashtead Buffalo Head vase V32
The design of the heads has now been attributed to David Furse
(V32 picture courtesy of Peter Conway)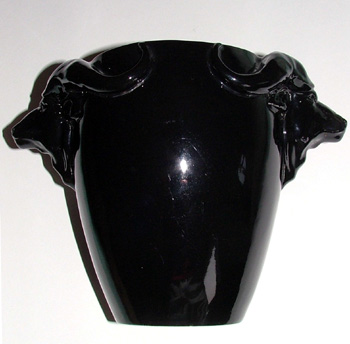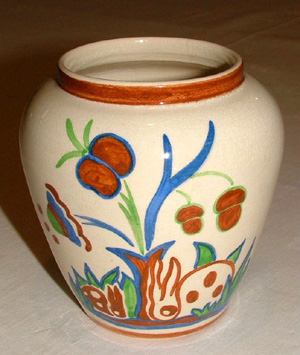 Ashtead Potters Vase V33
Decoration code "cj" – rabbits and flowers.
(V33 picture courtesy Peter Conway)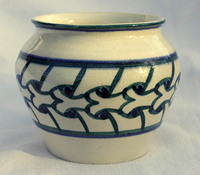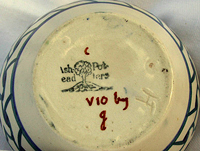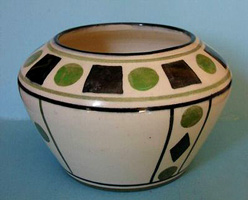 Ashtead Potters Vase V18
A nice "aj" vase. This one also carries a painters mark and the star date code for 1925/6.
(photograph used by permission)
Ashtead Potters Vase V77
Decoration code "me" – underwater scene and the "+" date code for 1932? This vase stands 17 cms tall. Larger versions have been seen.
(photograph courtesy Cotswolds Antiques and Glass)