British Empire Exhibitions – Wembley 1924 and 1925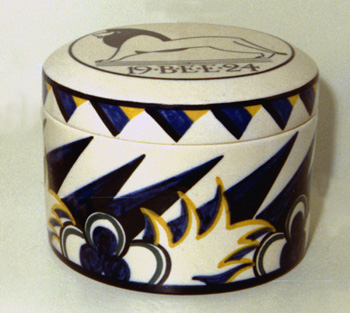 Ashtead Potters Souvenir Chocolate Box model EE
A lovely souvenir from the 1924 British Empire Exhibition. This piece was produced for Carson's Chocolate and Confectionery of Bristol and was sold complete with a pound of chocolates inside.
(photograph courtesy of Ted Lightbown / Heather Forrester)
An Ashtead bowl J.I.4/2
This piece was produced for (and possibly at) The British Empire Exhibition of 1924. It bears the "Herrick" Lion in the centre.
The bowl is 4 inches wide and is finished in Powder Blue (f) glaze.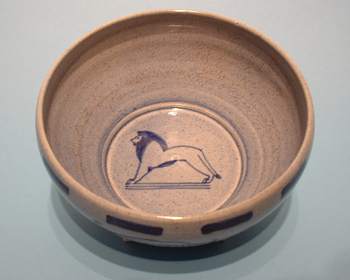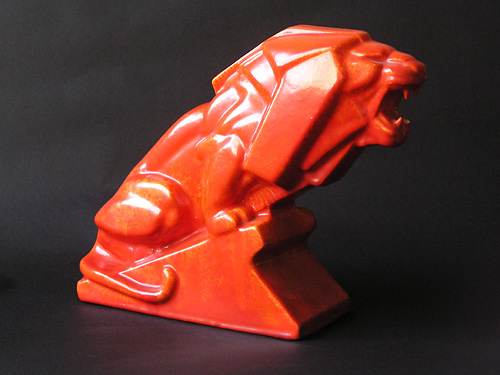 Ashtead Wembley "Lion of Industry" model M2
Modelled by Percy Metcalfe (1895-1970) as a symbol of "the undefeated courage of British Industry in times of difficulty".
This lion stands 7″ tall and is finished in orange glaze (m). A larger model "M1″, stands 14" tall.
British Empire Exhibition plaque
These were designed to take an Award medal in the round recess at the top. The medals were only presented to the exhibitors and were not generally available. The Ashtead Potters, at extra cost, would mount the medal in the plaque for those who wished. The Lion on the plaque is featured on the reverse of the medal. Both were designed by Percy Metcalfe.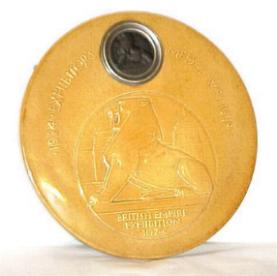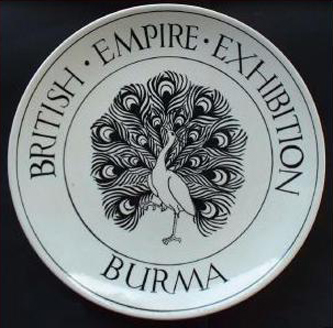 Commemorative plates
Ashtead Potters issued a set of commemorative plates for the exhibition at Wembley. These showed symbols of the countries that had display pavilions there. This example is "Burma". Canada, South Africa and Australia are among the other nations represented in the series.
Ashtead Potters made several items featuring the "Herrick" Lion for the exhibition at Wembley. This is a particularly stunning bowl that was possibly decorated on the stand at the show.
(photographs courtesy of Simon Curtis)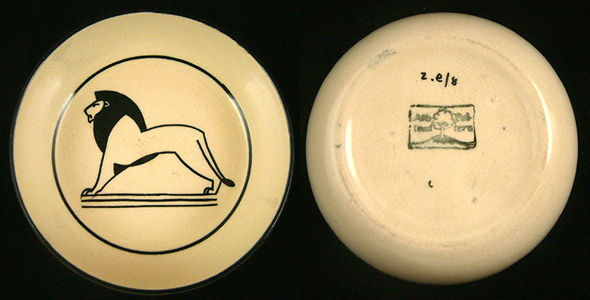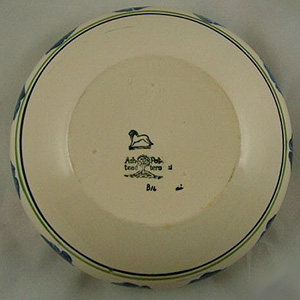 The back of a B16 bowl in "ai" Clematis design. This one has the Wembley "Lion" stamp and a painters mark for William Robinson.
Four Wembley Exhibition commemorative beakers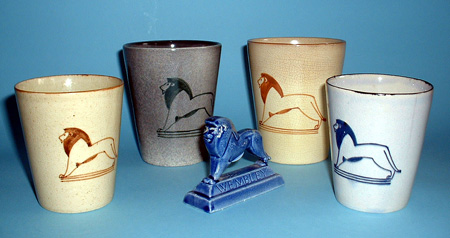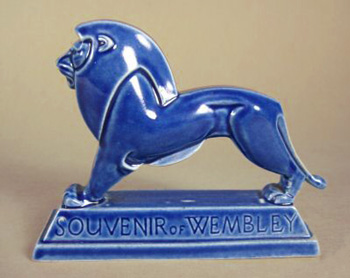 An Ashtead version of the "Herrick" Lion
Another Wembley exhibition piece, this time a lidded container for the military "Searchlight Tattoo 1925" held in the new Wembley Stadium. These pots carry an early "Ashtead Potters" mark. One of the pots has been found with a compliments slip in it. It reads "With the compliments of Lt General Sir William Furse and Members of the Tattoo Committee".
Furse (1865-1953) had earlier had a very distinguished military career and was also a member of the Management committee that ran the Ashtead Potters Limited. Furse had two sons; David and Roger and a daughter, Judith. Roger went to the Slade School of Fine Art and later became a famous film set designer (Hamlet, The Red Shoes…) Judith became an Actress.
(photograph by kind permission of P. Donovan)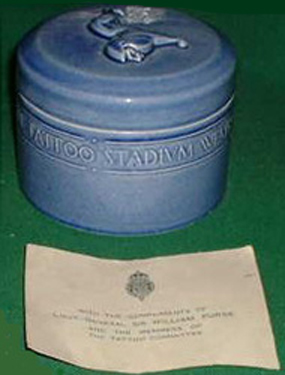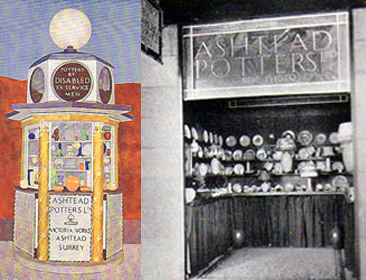 The Ashtead Potters British Empire Exhibition display stands – Wembley 1924 and 1925