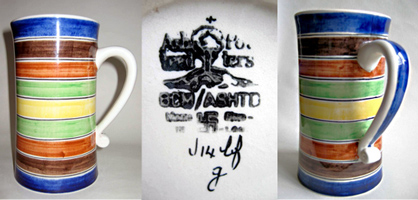 Ashtead tankard J14
Another nice J14 tankard, this time in harlequin hoops (bf). The markings carry the date code of 1928 and a "plus" painters mark (not attributed). This piece turned up at auction in Northern England as part of a boxed lot of "household" junk, the bright colours caught the eye of the buyer, who got an absolute bargain!
(photos kindly submitted by Andi Sercombe)
An Ashtead Pottery Tankard with crinoline ladies, model C23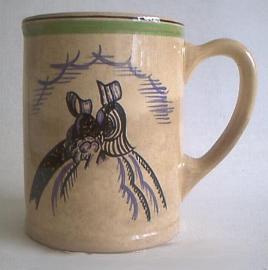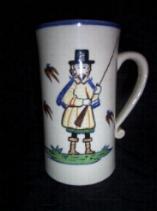 Ashtead Jug J14
This jug is decorated with a gamekeeper, his dog and flying pheasants – decoration code "cy". It also carries the single dot painters mark of Albert Vincent. The jug is an early piece, not having a date mark.
Ashtead Potters "jo" pattern
A highly decorated "trio" and a Coffee pot in decoration code "jo" "spring flowers.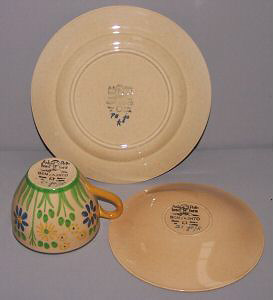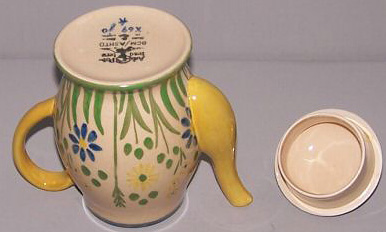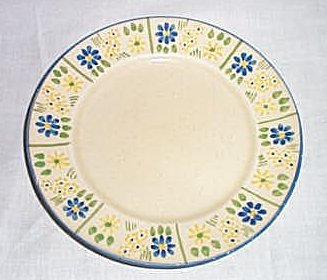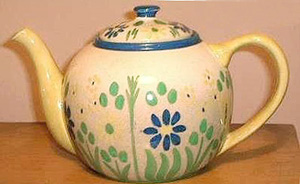 Ashtead Potters "jo" pattern

clockwise: A dessert plate and a teapot in decoration code "jo" "spring flowers.
An Ashtead Potters "Rabbit" tea set.
The blue rabbits were usually painted by Albert Vincent. Shown here are a teapot X39, a small jug J20, cup C1, saucer S1, and small sugar bowl (?) and plates P8 and P11. The decoration code is "jp".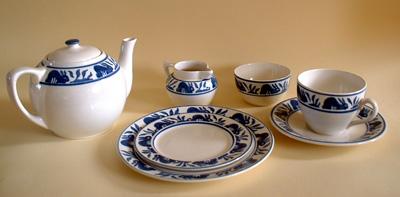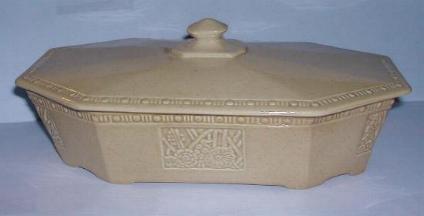 Tureen from the Ashtead "Wigmore" dinner service
A lidded tureen model W1. Finished in Pearl Barley glaze (k). It is about 25 cms long, 14 cms wide and 6 cms deep. This seems quite shallow for it to have been for vegetables, so it may have been used for meat.
Salad bowl from the Ashtead "Wigmore" dinner service
A Salad Bowl, model W18. Finished in Pearl Barley glaze (k). The Wigmore service was available in Pearl Barley or Opaque White (w) as standard. Other colours were available to special order at a 10% premium. The salad bowl would have cost 8/-6d (42.5 pence) in plain glaze when new.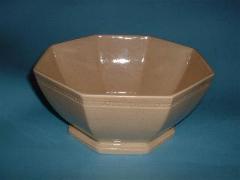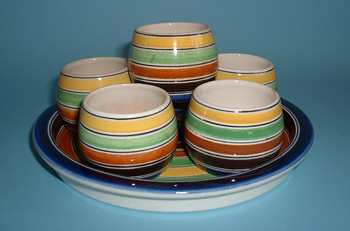 Eggcups and stand
A lovely set of eggcups (C9) and stand (P14). Decorated in the harlequin pattern (hu).
An unusual Ashtead Potters tankard J14
Finished in an abstract harlequin pattern (jg).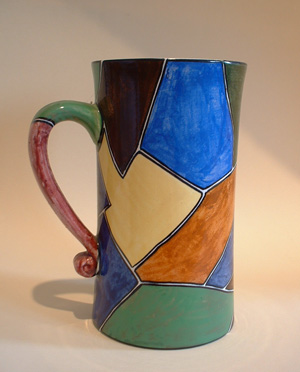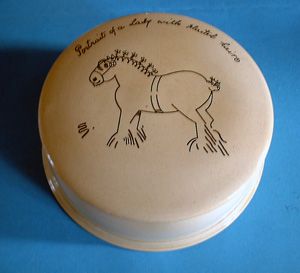 This covered pot "Portrait of a Lady with Plaited Hairs" has a design by Lady Sybil Grant, a daughter of the 5th Earl of Rosebery. Lady Grant sketched one of her own Suffolk Punches. The Rosebery's have a long standing connection with nearby Epsom. "Durdans", the family seat, is on one of the roads leading up the famous racecourse. Lady Sybil and the Reverend Edward Dorling were leading members of the "Lest we forget" charitable fund. One of the highlights of the year in Epsom was the annual charity fete held in the grounds of the "Durdans" at which the Ashtead Potters had a stand.
Ashtead Potters "Breakfast in Bed" set
Although not all of the same pattern, pictured above are the pieces that made up the "Breakfast in Bed" set. Clockwise from the bottom left we have; Side plate P11, Cho-kr Ashtray S24, Bacon Dish X52, small jug J20, Teapot X14, Sugar Basin B35, Stem Vase V57, Cup and Saucer C1 and S1, Egg Stand M23, 6″ Side plate P8, Toast Rack S29, Divided Dish S28 and Cruet M29.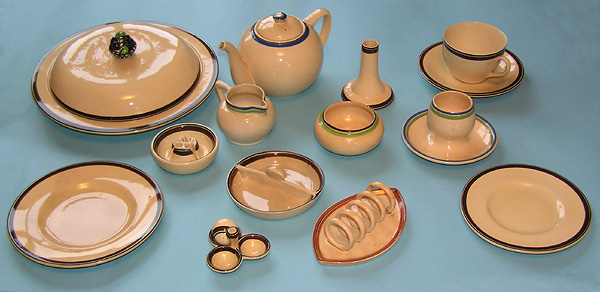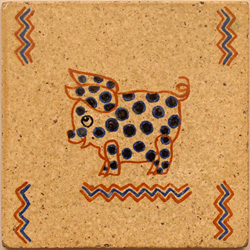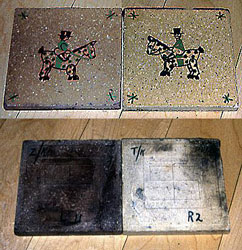 These are tiles decorated by the Ashtead Potters. On the left is a pig and on the right a pair of Spanish style horses. The tile blanks were bought in by the Ashtead factory – these particular ones were sourced from the Tegelfabriek factory in Schiedam, The Netherlands.
Ashtead Dish S5 / 8
A small dish of 9 cms diameter, this may have been an advertising piece (product unknown), and, from the model number, possibly one of a series?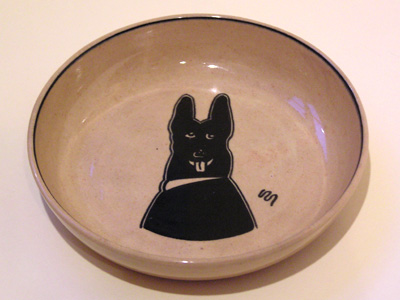 Ashtead Wash Bowl B57 and Ewer J54
Finished in decoration code au/4?
(photograph courtesy of Windibank Auctioneers, Dorking)