Some stunning "Portmeirion" souvenir Ashtead wares. Probably produced to mark the opening of Sir Clough Williams-Ellis's Portmeirion in 1926. Clough Williams-Ellis built Portmeirion from 1925 to 1975 on a peninsula off the coast of Snowdonia to show how 'the development of a naturally beautiful site need not lead to its defilement'.
Sir Lawrence Weaver was effectively Clough Williams-Ellis's patron in the 1920's and both were founding members of the "Voluntary Committee" of the "Ashtead Potters Limited" company when it registered for business under the Industrial and Provident Societies Act in 1922.
Ashtead Potters "Portmeirion" charger P3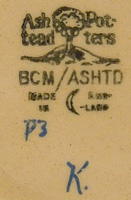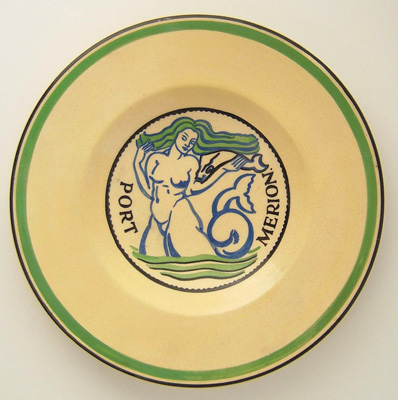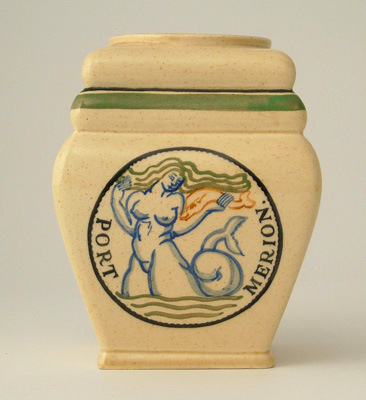 Ashtead Potters "Portmeirion" covered box X55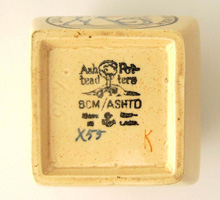 The current Portmeirion Pottery is not made at Portmeirion Village. The company was started by Williams-Ellis daughter, Susan Williams-Ellis and her husband, Euan Cooper-Willis, who purchased a small pottery decorating company in Stoke-on-Trent called A.E.Gray Ltd. Her designs went there to be produced exclusively for the gift shop at the Portmeirion. More information about Portmeirion Pottery can be found on Stephen McKay's website here.
It is worth noting the mis-spelling of the name by the Ashtead Potters; "Portmeirion" having a single "i" in their version.
The "Mermaid" is thought to be a reference to one of the original cottages on the estate dating from 1850 that bears that name. Only four buildings pre-date Clough Williams-Ellis involvement in Portmeirion and "Mermaid" was "Clough-ed up" in 1926. The cottage itself now provides self catering accommodation provding sleeping for up to four people.
Ashtead Potters "scalloped" dish
(All photographs are copyright of Stephen McKay)